Electronic commerce which is generally known as e-commerce is a type of industry where buying and selling of products and services are done online. We specialize in ecommerce website developement and hence create professional look for our customers who are looking to sell their products online. Grow your business with our outstanding e-commerce service. We develop E-Commerce websites for all industries clothing, grocery, real estate, jewellery, hospitals, education.
The benefits of e-commerce include its around-the-clock availability, the speed of access, the wide availability of goods and services for the consumer, easy accessibility, and international reach. Its perceived downsides include sometimes-limited customer service, consumers not being able to see or touch a product prior to purchase, and the necessitated wait time for product shipping.
VSP Softtech offers you the best e-Commerce solutions for companies who aim at maintaining a professional online presence on the internet. Our e-Commerce applications are fully customized to meet all your needs. At VSP Softtech we strive to develop the best e-commerce applications combined with user friendly and attractive websites for a great visual experience.
We are having 5+ year experience in developing e-commerce website. We are having the latest and updated software and technologies which we use in developing the e commerce websites. We build highly functional, attractive and easy navigational websites that are user friendly. e-commerce websites are rich in content and takes much more time then a usual website to open up; we build highly efficient and fast loading websites. We integrate social media interfaces in your website, it is very important because social media site offer a huge platform across the globe to make people know about the business and services that you offer. We develop search engine friendly e-commerce websites, it helps in many ways, firstly it increases your site visibility across the search engines and secondly because of increased visibility the traffic and revenues to your website increases simultaneously. With trending of mobiles, laptops, PDA, TAB etc...
Request for proposal for Shopping cart/ online e-commerce solution and find out how VSP Softtech can help you increase your online website sales with proven SEO strategies, Contact us today.
Static Website

A perfect responsive business website in HTML5 and CSS3. Best solution if you don't need to update content of the website after publishing it online.

Dynamic Website

Best solution for a business website where you need control over content of the website. Add, update or delete content & images of website.

Blogging Website

Solution for a personal or business blogging. Best solution if you are looking better user experience at your blog & better SEO results for business.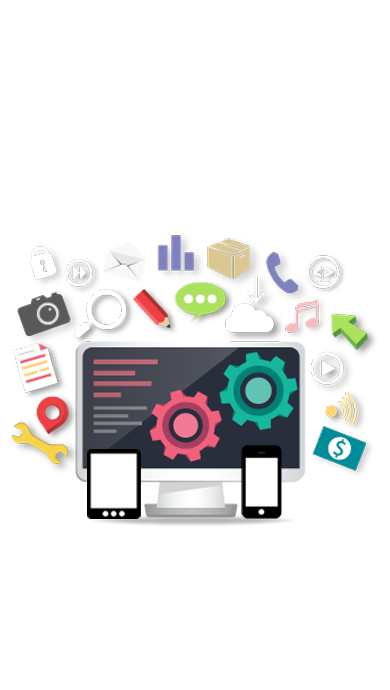 Custom Website

We create all type of dynamic websites & database driven web applications. 'VSP Softtech' is a best web development company in Pune.

Startup Website

A perfect solution for statups & SMEs with static & dynamic websites. We build websites that would impress your customers as well as investors.

Business + Blog

If you need a business website + blog, we provide a great solution with WordPress platform. Website that can impress anyone, blog that readers will love.
Do you want to discuss with us?